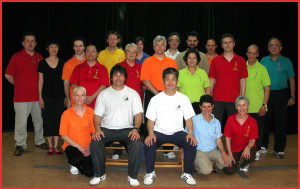 "I have had the opportunity to study with a number of martial art and Qigong masters. Master Wallace is unique and rare among them. He is absolutely passionate about his art and committed to his students. Most importantly, he actually lives by and models his art, both the physical health aspects and more importantly the philosophy. He teaches all his classes personally, is detail-oriented, and inspires the best in his students by support and a true desire to encourage and address questions. His depth of knowledge and skill is extraordinary, yet it is apparent that he is always working on his own further development. Master Wallace is a wonderful human being whose passion for his art and its ability to benefit all is always present. Wild Goose is a powerful, beautiful Qigong form worthy of a lifetime of study. I can assure you that if you are serious about studying Qigong from a true master who models all aspects of the art in a supportive, personalized environment, Master Wallace is for you"
 –  Marc Bassin
•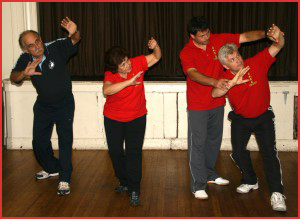 "I started Qigong classes approximately six years ago, at age 59. I suffered from a debilitating and crippling disease for about 30 years, which caused daily pain and very limited mobility and flexibility.  I had doubts that my condition would improve, however I was very hopeful. I found the classes very challenging, but I was determined to give it my all. My first surprise came during the first six months, at my yearly evaluation. The doctor (specialist) was shocked to see that I had gained 75% in flexion and extension, and gained 40% of muscle mass, tone and strength, Even though I still had some limitation, I had regained balance and stability in standing and in motion. This was the beginning of six years of a wonderful learning experience. After a seminar in Level 1 Hard Qigong, which Sifu taught, I was hooked. I had not experienced this level of energy and overall wellness for so many years, and it became almost impossible for me to slow down. The training was amazing and even though at times I had doubted the possibility of reaching test level, the encouragement of my Sifu kept me going. I took the test and passed on April 19 2008. The training required dedication, focus,  perseverance, and heart, but the results are a life-changing lesson, and the possibility  of living a healthy, active life, regardless of age. At this point, I have been able to substantially reduce the amount of medication I take, I live pain-free, and most of all I can do my daily practice and enjoy living with energy, focus and happiness. Words cannot adequately express my gratitude and love for these skills, for my wonderful Sifu, without your encouragement and dedication this would not have been possible, and to the entire Tse Qigong Centre family for bringing these skills to people like me. I encourage people with physical limitations to try, and don't let fear prevent you from learning how to help yourself overcome obstacles and improve your health and daily life. Thank You"
– Rosa Casillas
•
"I have been studying Wild Goose Qigong, Taijiquan and other Chinese Martial Arts with Sifu Adam Wallace for over four years. The practice has been very beneficial for helping me manage stress and anxiety to become more centered, balanced, and healthy, and improve a problem I've had with numbness in my leg.
Sifu Adam Wallace is a very special teacher and I would recommend him without reservation. He brings sincerity and focus to his teaching. He is patient and genuinely interested in seeing his students develop successfully. It may be natural to wonder whether traditional Chinese skills can be learned from a Westerner, but reviewing his credentials and watching him perform these skills answered that question clearly for me. The skills he teaches are from a clearly documented lineage of masters, and Sifu is a worthy successor. Perhaps as important as his personal skill level in Qigong and martial arts is his skill as a teacher. Sifu demonstrates a dedication to teaching, providing clear, consistent standards as well as varying the lessons and class structure to keep them fresh. Each student learns through a process of self-discovery that unfolds at his or her own pace. Learning many new forms can be appealing, but the emphasis is on the quality of the learning over the quantity. It is better to know one form well than ten forms poorly.
While some of the exercises can seem strange, esoteric, and even mystical at first, Sifu often reminds us that they are actually practical tools, intended for improving one's health. Taken as a whole, the experience of learning these skills goes beyond the scope of what a person typically expects from an exercise system. I would venture to call the undertaking to learn these skills a "life practice," and the potential benefits are wide-ranging. Harvesting those benefits, however, is not definite. The student must work sincerely to learn the skills and achieve the best outcomes"
– Jesse Nover
•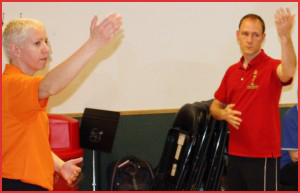 "I have been studying Qigong and Chun Yuen Quan with Sifu Adam Wallace for close to three years.  In that time I have learned not only exercises and forms, but have also gained valuable knowledge of the underlying principles and philosophies of these arts. These are directly applicable to the other facets of my life.  I'm beginning to realize ideas such as Yin and Yang and the 5 Elements "appearing" in my daily life more and more.  I find myself striving for balance and seeking harmony with nature.
With each class Sifu takes the time to work with the group as a whole, and also with each student individually, providing direction and reinforcement of our lessons. He is always willing to demonstrate the proper form and explain in clear detail how and why an exercise or move should be performed. Toward the end of class, Sifu will usually discuss a specific topic with the class such as the importance of daily practice and meditation. I find these discussions, as well as his various articles and web postings to be of enormous benefit to me on my journey. Sifu is a professional, patient and very knowledge teacher. He fosters a friendly open atmosphere in the class that carries over to friendships outside of class. Since I began studying with Sifu, I am better able to remain calm and level-headed during the everyday stresses of my family and work life. I look forward to continuing my studies and developing a deeper understanding of these arts"
–  Chris Meagher
•
"I have studied and trained in the Martial Arts for years under many instructors and two masters. Presently, I am studying the Chen Style of Taijiquan and several forms of Qigong (both hard and soft) under Master Adam Wallace for five years, and have never before been exposed to this quality of training! Sifu is a purist. We students are taught not only the techniques, but also the tradition, history, philosophy and culture behind them. Personally, I have enjoyed much improvement in my flexibility, breathing, and balance, as well as a greater appreciation of the Arts"
–  Sal Angello
 •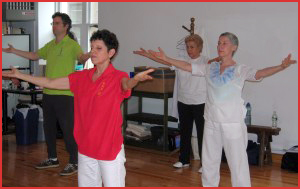 "I count among the blessings in my life meeting my Sifu, Adam Wallace, and learning the Wild Goose Qigong skill. Sifu Wallace is a Master Teacher that exhibits all the traits of the lineage of inheritors of the Wild Goose Skill: excellent health, integrity, clarity of mind and spirit and compassion. He conveys all of these when he practices as well as when he teaches the skill. I have been learning and practicing Wild Goose Qigong for more than a decade, and to this I attribute my good health, delight in living, and keeping emotional balance amidst difficulties. An occasional cold, body pains or difficulty in sleeping…I have always resolved them with Qigong, and without taking any medications in all these years. It always amazes me, and sounds like a miracle, but it always works"
– Olga Gonzalez
•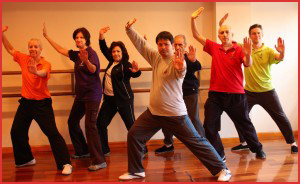 "I have been studying with Sifu Wallace since Feb of 2005. I used to suffer with sinus infections and bronchitis several times a year, but now I am proud to say that I am healthy and feeling strong. Gone are the days of going to the 'Doctor', taking antibiotics, and using an inhaler!    
In addition to the skill, he is highly knowledgeable about traditional Chinese customs and culture and is a kind and compassionate teacher. He is very clear in his demonstrations and explanation of the skill. To me, he is the epitome of a "Sifu" which is defined as, "Teaching Father".  We aren't just students; we are part of a family and Sifu treats us that way. If I am ever in need of advice he is always available and open to sharing his advice and wisdom.
The quality of my life has improved ten-fold.  My health is better, I have an increased level of energy, and I feel 'younger' than my chronological age. I am grateful to Sifu Wallace, for his guidance has directed me onto a path: a path in life that is providing me true meaning and purpose"
– Deborah Hart
 •
"Having the opportunity to study under your tutelage has been a pleasure and a continuous challenge for me. The pleasure comes from learning from a great teacher, a dedicated and true professional of the martial arts. Observing the elegance of your moves during your various demonstrations is a real treat and closely relates to your excellent teaching abilities. Learning from you such techniques as Hard Qigong, Wild Goose, and presently Chen Taijiquan have given me a true perspective of my capabilities to learn such complex and fascinating arts.
Definitely, the various skills which I have learned in the past five years have given me the opportunity to enhance my health and perspective of life, especially by helping me to move into the third age and improving my physical and mental abilities even if I am still struggling to concentrate during meditation, but I will get there.            
Thank You!"
– Frank Casillas
 •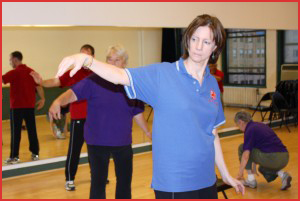 "What incredibly good fortune of mine to have discovered Sifu Adam Wallace more than 15 years ago to begin my Qigong practice, and to learn and understand so many things – how to be healthy and to be able to heal myself – about energy and how it can be created, saved and utilized – and how to a be good person in all aspects of life. When I started practicing Wild Goose Qigong all those years ago it was exciting to become aware of such gems of wisdom and lessons of life. Thank you, Sifu. It is even more profound now"
– Maureen Madden
 •
"Four years ago I was teaching Tai Chi Chuan and feeling the need for something more.  I read and studied different martial arts and Qigong, but couldn't find what I was looking for. I wanted a system of Qigong with an integrity of history and practice, something not watered down and subject to many interpretations. I was very impressed with Grandmaster Michael Tse's books, and when he came to New York I attended his seminar.  There I met Sifu Adam Wallace.  Seeing the two teachers together convinced me that the Wild Goose system was what I wanted to learn.  For four years I have been attending Sifu Adam Wallace's classes and I have found him to be the embodiment of the art. He is extraordinarily accomplished and eager to impart his knowledge to the members of his class.  He lives and breathes Qigong in the broadest sense. There is always something new to learn about the forms and living in general. I am very grateful to have found him as a teacher"
– Ann Harvey
 •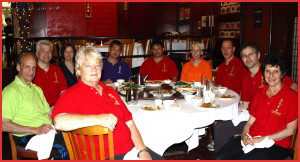 "Practicing Qigong has been a very important part of my life. It has supported me through tough times of physical and emotional challenges and always proved to improve my health, rejuvenate me and restore a better sense of balance in my daily life. After I practice Qigong, my mind feels clearer and more focused, my body feels energized and there is a general feeling of relaxation and well-being. At night it is an effective skill that helps me clear my mind from distractive thoughts and negative energy and helps me prepare for a better rest. Practicing Dayan Qigong helps me feel synchronized and connected to all that is around. The different skills we learn have a deep and complete beauty to them – like good music – and they continue to fascinate me.
I understand that health is very much related to general attitude and the ability to keep the flow of energy in the body and balance Yin and Yang energies. In my life I keep on practicing how to conserve my energy, be aware of accesses as well as opening my heart. Qigong is definitely a life skill in which my character and my personal challenges keep coming up and I keep on learning. As my Sifu, first and foremost, I see your deep commitment to the skill and the total love and respect you have for it and for your role as a teacher. You been a great model for me. I also have utmost respect for the depth of your knowledge and know that there is always something I can continue to learn from you. I feel that you live by the values you promote including loyalty, commitment to learning, respect and fairness. Thank you so much for it!"
– Margalit Beery
 •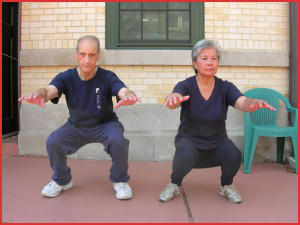 "Learning to breathe right . . . . was the first thing I learned from you Sifu. Then, the meditation (still struggling), which has help me so much especially in this chaotic world we live in . . . . . . Heal myself without medications . . . . Let go of so many expectations and problems, breath fresh air and relax! I have climbed 163 steps to the top of a mountain and crossed a 300 meters hanging bridge, which at first I thought was impossible, but I made it! You taught me to face my fears head on and not turn my back. My family and friends have asked me why at my age (70) I am so active, alert, and composed even when my husband was in the hospital . . . . . I told them Qigong!  I have become stronger physically, emotionally and mentally. Learning all the valuable lessons, I will cherish . . . and enjoy the journey to good health and a happy life. Thank You, Sifu"
 – Regina Duarte
 •
"Sifu Adam Wallace teaches perfection of form and clarity of focus with equal skill. As his student, he never lets me forget how mind and body are connected. Rather than being prescriptive, he also helps me to think independently. I have learned which exercises to apply from Qigong and Taiji to problems that I confront. The variety of exercises and applications of energy in qigong promote understanding of the complexity of daily life so I no longer oversimplify my world, and that helps reduce frustration. The continuous movement in Taiji reminds me of the unity of all that I am with all that I do"
–  James Sherry
 •
"When I first began to study with Sifu, I had a torn rotator cuff and was healing from a broken wrist and a form of degenerative arthritis. After about a month or so I realized I had almost full range of motion with almost no pain. The warm up exercises we do are so healing I rarely experience problems with my shoulder now. Tajiquan also helps with knee pain. Many times I've gone to class with my ankles and or knees hurting. I found it odd that as soon as we begin to do the form, except for an occasional twinge of pain, there's really no pain at all. Practice daily helps the most though. Joint Opening Qigong for myself was probably one of the best forms of Qigong for my own healing, along with daily practice of Taijiquan.
Another healing aspect of daily practice is the calming effect it has. No matter how hectic or stressful the day has been, once you start to do any of the forms Sifu teaches, it all seems to dissolve away. Sifu is also gentle with corrections too. I really appreciate the corrections. The few teachers I've studied with didn't do this, and I was practicing the form incorreclty. Doing the practices correctly makes a world of difference with healing, energy and balance. Our Sifu stands out from the others as he really does teach. As you progress he tweaks more and more. I don't think he realizes how much I appreciate the tweaks he makes on the Taiji form:) Our class is like family and I look forward to class every week"
– Paula Kucher
 •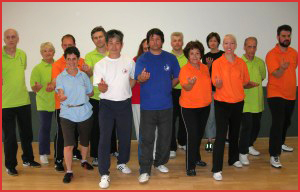 "I was looking to continue my Taijiquan training, but was having difficulty in finding a new teacher. After speaking to a friend who I had trained with previously, he introduced me to Sifu Adam Wallace.  After one lesson, the depth of his skill was obvious as was his ability to impart his knowledge of the history and traditions of the Chen form of Taijiquan that I am studying. This has given me more energy and a better ability to focus on my day-to-day activities. Along with that, I have more flexibility and less aches and pains. It has become again an integral part of my schedule. Sifu Adam Wallace has made this possible. You get the total commitment to help you achieve your goals to get the most out of your training"
– Tom Fisher
 •
"I first met my Sifu, Adam Wallace, when I moved to Jersey City over six years ago. As a snowboard enthusiast, I enrolled in his Taijiquan class with hopes of improving my balance and furthering my board riding, but after my first class I realized I had found something way more significant. The skill that Sifu has and passes on is beyond remarkable. This Taijiquan is far more rigorous than I had expected, developing incredible strength in my core, legs and improving my overall posture and balance. Over the years I've moved out of NJ and back a few times, and always rejoining his classes when I've returned. Given the history of this art and it's lineage back to Chen Village, and the underpinnings of Taoism in both the practice and philosophy; it's become evident that this is far more than a just a class"
– Michael O' Halloran
•